New Kitchens and Kitchen Renovations
____
The kitchen is the heart of the home. It's where meals are prepared, people come together and often provides the social hub. For that reason, it's important to ensure it is functional and a place to be proud of.
If you're looking for extra space, additional storage, the latest materials, a fresh colour scheme or quality joinery, look no further than Romandini Cabinets.
Keep it traditional, or go high-tech with one-touch motorised slow close drawers, ambient lighting and a range of storage solutions. Take the party outside with a whole new kitchen space alfresco. Consider a walk-in pantry to store appliances and essentials, and leave your kitchen clutter-free.
Looking for some inspiration? Our newly renovated working display kitchen showroom and colour selection centre at Dandenong South (undergoing renovations to be completed shortly) will showcase different door, drawer and bench top options together with handles, LED lighting, splash backs, internal divisions and much, much more!
Bathroom Vanity Units
____
A beautiful vanity unit should be the jewel in any bathroom's crown.
If you've moved into a new home, you may be looking to put your own stamp on things. Maybe you need more storage, or perhaps a 'his & hers' vanity unit with two sinks would end arguments over bathroom hogging. There are so many things you can do to ensure you're getting the most out of your bathroom …
Replace your cupboards with functional drawers, for easier access. Install a mirrored shaving cabinet for an extra storage spot to eliminate clutter. Boost visibility when shaving or applying make-up with built-in LED strip lighting.
Laundry Storage Solutions
____
Statistics tell us the average person spends more than one year of their life doing laundry! While it's not a task many of us enjoy, you can make the process as hassle-free as possible, with a functional laundry area.
Steps you can take for a more user-friendly space include installing a bench over your washing machine and dryer to provide a convenient area to sort your load, an aluminum hanging rail for a practical drying solution, pull out laundry hamper drawers or a custom-built cupboard with power point to permanently store your ironing board.
Built-in and Walk-in Wardrobes
____
A well-designed wardrobe that complements your existing space and lifestyle is essential for enabling easy access and adequate storage.
The myriad of options and configurations available allows for clever use of whatever space you have available. Consider mirrored or frameless doors, double height hanging spaces, extra drawers, shelves and cupboards, and LED strip lighting to help you see into the nooks and crannies.
Desks, Home Offices, Study areas and Shelving
____
With more and more people needing to work or study from home due to pandemic conditions , Romandini Cabinets is on-hand to help you perfectly fit out your home office/study to meet your distinct needs.
Our advice will help you make the best use of whatever space you have available. You might have an entire room at your disposal, or simply an alcove or corner. If it's the latter, doors or a roller shutter will perfectly section off the space, allowing you to keep work and play separate.
We'll build storage to suit each user and neatly house all the required equipment, including computers, phones, printers, books and stationary. We can also build in office-appropriate LED lighting, to avoid eye strain.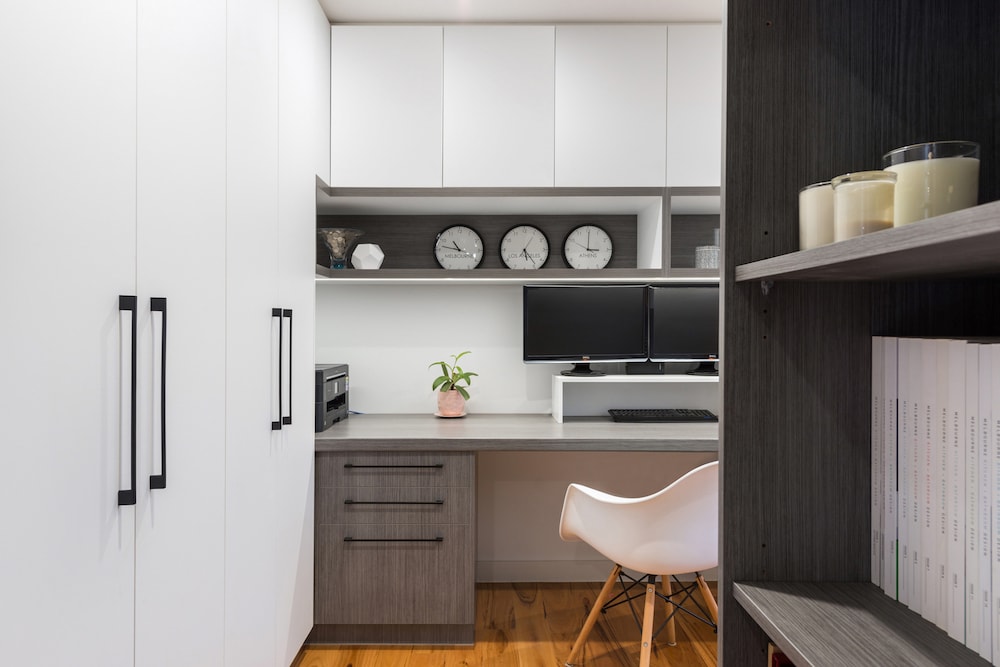 Entertainment Units AV/TV Joinery
____
An entertainment unit can provide a beautiful focal point in your main living area, while simultaneously eliminating clutter.
Rather than purchasing a one-size-fits-all solution, why not consider something custom-built that perfectly fits your space and complements your current style?
All Architectural Joinery
____
Don't let an inch of your home go to waste! Your property most likely has an abundance of untapped storage potential.
With the right approach, your staircase, garage, hallway and entrance may provide valuable additional storage with custom cabinets and shelves installed.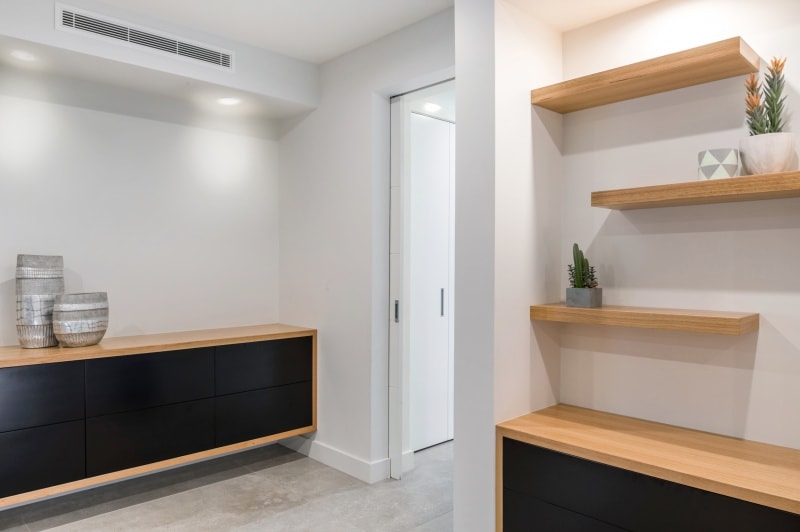 Have a question?  Please give us a call or send an enquiry using the contact box.
Phone:  03 9706 8110 or 0444 504 351
Showroom by appointment only:
28 Rhur Street, Dandenong South, Victoria 3175
Business Hours:
Monday - Friday: 7:00 AM to 3:30 PM
Saturday: By Appointment Only
Sunday: Closed